4 Forex Trading Sessions dominate the market. They are grouped according to the opening and closing time of the market.
Forex Trading Sessions begin with Sydney at 2:00AM (EST), Tokyo session , London session and ends with New York session at 5:00PM (EST).
This is as summarised on the table below.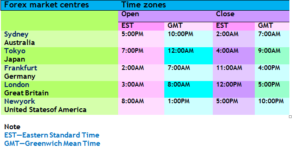 European forex trading session/London session
 The European forex trading session is the largest and the world's most volatile market for trading currencies. It has a turnover of 34.1% market share of the daily forex volume. Also 7.5% from nearby time zone of France,Germany and Denmark.
The European session is the largest and most important trading center in the world.
The London session has the most trading traffic ever. All traders big and small go for this session to catch up the small spreads and grab themselves profits.
It links with the Asian session and the New York session.
The London session opens from 3:00 AM-12 :PM( EST). There fore the New York traders have to wake up very early to trade this session. The Asians can trade this session during evening at 3:00pm to midnight (Hong Kong time).
Most active traded currencies in this session are: EUR/GBP and EUR/CHF.
 The New York session/North American trading session.
As the New York session traders are getting to the market, the Asians are getting out preparing  for bed. Meanwhile it's half a day for the European session traders.
The New York session is majorly traded during the overlap time.  It opens by 8:00 am and closes at 5:00 pm EST, overlapping with the European session that had opened by 3:00 am closing at noon.
The period between 8 am to 12 noon, is the overlap and this is when the majority transactions occur.
By midday, the market slowly drops down in the activity as the European traders sign out of the market. So  beyond this time it may not be the appropriate time for the US traders.
If you like trading the US pairs, this overlap session is a good time for you to strategize. This is because, it's when the market is busy with high movements, volume and high liquidity.
Commonly traded pairs are; EUR/USD, GBP/USD.
It's easy to make an profit from those pair currencies when traded during the overlap session.
The Tokyo/Asian forex Trading Session.
The Tokyo session is the first market trading session to open, Sunday afternoon. 
Most forex traders rely on it to speculate the future market changes and develop favorable strategies to use in other sessions.
In the Tokyo session, there are many other countries with a considerable pull that are present during this session. They include; China, Australia, New Zealand and Russia.
Tokyo session opens by 7:00 pm and closes at 4:00 am. It coincides with the European session between 3:00 am-4:00 am.
As one major market closes the other one opens from time to time. This enables forex traders, brokers and dealers from all continents to take part in trading online 24 hours a day.
For example if we consider a less active period between 5pm-7pm EST, after New York closes and before Tokyo opens.
Sydney will be open for trading but with more modest activity than the three major sessions (London, New York, Tokyo).
 The Overlap forex Trading Sessions.
 As you try to analyze and study the trading sessions, you will realize that between each forex trading session, there is a period of time where two sessions are open at the same time.
Let's take a quick look;
From 8:00 AM – 12 Noon EST, the New York and London sessions overlap,7:00 PM – 2:00 AM EST,

Sydney and Tokyo sessions overlap and 3:00 AM – 4 AM EST London and Tokyo sessions overlap.
This is the most reliable time for forex traders.
During these overlaps, there is high volumes and movements, high liquidity and the market is more volatile.
When the two markets are open at the same time, many traders are exchanging currencies. This leads to high price movements, low spreads and low transaction cost.  This is a good time for you and me to make money out of the market with low chances of a loss.
The market session overlaps are detailed as below.
The New York – London session (8:00 AM – 12 Noon) EST.
The European traders trade 4 hours alongside US traders in a 4 hour overlap from 8:AM – 12 Noon EST. It's when the world's most active trading centers; the European session crossing the New York session. 
It's always hot and the market is at its peak. 
Just imagine when two strong bulls cross each others path over a beautiful heifer, the fighting ground can never stay the same. It's always memorable.
More so, it's in this period that the release of important economic numbers and news occurs. This is only when we expect to see the greatest movements in the market due to high liquidity and economic news effect.
EUR/USD and GBP/USD would be a good choice for you to trade during this session.
Asian – European Overlap (3:00 AM – 4:00 AM) EST
The Tokyo traders trade alongside European traders for a 1 hour overlap between 3:00 AM –4:00 AM. Also, it is when the important economic news release  happens. 
The commonly traded pair is GBP/JPY because it's more volatile.
Forex trading hours, and trading time.
New York opens at 8:00 AM to 5:00 PM EST
Tokyo opens at 7:00 PM to 4:00 AM EST
Sydney opens at 5:00 PM to 2:00 AM EST
London opens at 3:00 AMto 12:00 Noon EST
Overlapping hours for the two trading sessions.
New York and London between 8:00 AM – 12 Noon EST
Sydney and Tokyo between 7:00PM – 2 AM EST
London and Tokyo between 3:AM – 4 AM EST

T
herefore before starting to trade forex, you must first of all determine;
Which forex trading sessions match your trading strategy and currency pairs.
The best time for you  to trade,
Define whether high or low volatility works best for you and take note of the session overlaps.
Consider which time frames you choose to trade and the pairs you intend to trade. 
Watch the release time of government reports & official economic news. There is always high price movements during news release.  They are released during the most active sessions of forex trading.
Mostly mind about the well being of your health, " for a health body is a health mind."
Now that we have got hold of the forex trading sessions and promised our selves not to over trade.
Let's see on how to choose the best days of the week to trade.
Procrastination to trade is when your trading set up confirms and you hesitate to take trade. Or your trade show all failing signals and you hesitate to close trade to cut losses. Also, in cases, where you sometimes hesitate to take profit because you want to...
Viewing 18 topics - 1 through 18 (of 18 total)
Viewing 18 topics - 1 through 18 (of 18 total)