Forex Market environment simply means the zone in which you prefer to trade on the market chart.
The Forex market has 2 types of trading environment; i.e Trending market and Ranging market.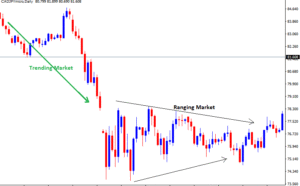 Trending forex market environment:
A trending market is the one where prices move strongly in a particular direction for a specific period of time. The market rallies either up or down in a trend for a long time.
In an uptrend, price makes consecutive higher highs and higher lows.
Whereas in the downtrend, price makes lower lows and lower highs.
Ranging markets 

                                   
A ranging market is the one in which price is defined between the levels of support and resistance.
Unlike the trending markets where price makes higher/lower highs and lows, in ranging markets price maintains the highs and lows.
It remains within these levels range for a certain time.
Ranging markets indicate low price volatility in the market or flat market.
The commonly used trend indicators include Moving Averages, Bollinger bands, ADX Average directional index, Ichimoku Kinko Hiyo and the Parabolic SAR.
In case you are trade in Ranging market, look at price reversal on support or resistance or else wait for a price breakout on either level.
Trend retracements.
 A retracement is a small pullback in the major price movement. It is a temporary reversal in a trend direction of currency prices.
Price moves shortly to the opposite direction of the trend before it continues to its original direction.
Retracements can lead to unexpected losses due to premature close of open positions when not identified in time. Mostly price is likely to move back to the predicted direction.
To avoid this, make use of technical indicators such as Fibonacci retracements, trend lines, support and resistance and pivot points so that you are able to monitor such levels in current trend.
You can also take advantage of retracements when you trade in the direction of the main trend after the pullback.
Trend reversal
 A trend reversal is a change in the direction of the entire price trend.
Price trend normally reverses after attaining its overbought and sold levels. 
This is seen when a downtrend changes into an uptrend or vice-versa.
How do you know that a trend is going to reverse?
 Study price action in the market trend
Look at the weaknesses in the trend movements. If price was making higher highs and higher lows in an uptrend but starts make lower highs and lower lows.  This is an indication that a trend is likely to change direction.
The a appearance of large candlestick patterns and strong reversal candlesticks. They include; shooting stars, hammer the engulfing, morning and evening stars in the trend especially on the levels of support and resistance. 
Overbought and oversold conditions on indicators
Indicators crossovers
Procrastination to trade is when your trading set up confirms and you hesitate to take trade. Or your trade show all failing signals and you hesitate to close trade to cut losses. Also, in cases, where you sometimes hesitate to take profit because you want to...
Viewing 18 topics - 1 through 18 (of 18 total)
Viewing 18 topics - 1 through 18 (of 18 total)