A Trading Plan in Forex contains the rules you make to follow before, during and after trading. These rules show the dos and don'ts with an aim to over come your emotions.
Forex trading is the most challenging business career and is more risky when compared to buying company shares.
If you want to take forex trading as a career, a trading plan the most important thing to your success.
It makes meaning when its your own personal plan. In other words, you should not follow someone else's plan.
Remember, what works for me does not necessarily mean it will work for you to. For example, someone else's attitude towards risk and available capital could be very different to yours.
It is also very important to follow your trading plan. Most traders, make one but never even look at it.
Forex trading is like a game of power.  Yes, It is a game of probability. It is not like you will profit all the time. The outcome is either a profit or a loss.
But if you plan and follow your plan, you will always have more odds to your side.
What do i mean?
If you want to trade Forex successfully, you must plan a head and only trade your plan. Without a plan you trade to fail.
What is a Forex Trading plan
 A plan" means; a set of rules, list of steps you put in place to follow to achieve a goal.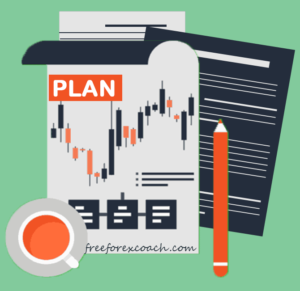 A Forex trading plan is a set of rules you make to follow before,during and after trading.
It includes a methodology, system and a strategy.  With your plan you should be able to answer questions like how, when, where, who and what.
Trading Strategy. Your strategy comprises of the best steps outlined in your plan to achieve the desired goal. This drives your plan to your goal.
Your strategy, should fully answer your why? And also clearly state your methodology.
Trading System. A system is more of a strategy. It covers the steps of the methods you will use to win trades.
Specifically, it describes your detailed strategy.
It shows the execution time, when to enter and exit trade.
Your trading analysis; whether technical or fundamental analysis.
And risk management, when to trade and where to trade.
Trading Methodology. This tells you what to do while trading.
Your trading methodology describes your trading style; how you manage your account, how much you are risking and your risk management tools.
All the above adds up to a trading plan. This shows how important it is to plan before engaging in any kind of trade and to trade your plan.
3 Main Reasons to have a Trading Plan
When you have a plan to trade, it helps you determine what is likely to happen basing on your trading system, strategy, risk management and partly your psychology.
If you trade following a trading plan, you will trade with discipline and also reduces on trading mistakes and losses.
Last but not least, it helps you to get hold of your emotions which is one way to become consistent in your trading.
 What you must have on your plan
Fully describe your trading strategy, indicating the necessary details. Your trading plan must include;
Your strategy name
Entry and exit signals
Stop loss and Take profit
Your trading time frame
Currency pairs you intend to trade
what makes a trade to fail
The list of indicators you use and how to use them
How much are you willing to risk per trade?
Your trading goal
How much time can you commit to your trading?
Your daily trading routine
Your trading journal and record keeping
Last but not list, when to review your trades
What is the difference between a trading plan and a trading strategy
A trading plan is very comprehensive unlike the trading strategy which describes just how you will enter and exit trade.
A trading strategy is part of your trading plan.
Your strategy shows what to look for on the charts and trade.
When to enter a trade, for example, price break out, moving average cross overs, reversal candlestick patterns to mention but a few.
The exact conditions that will determine your entry and exit
Any reasons that make your entry invalid
Reasons that would make your trade a failed trade
What to do when a trade fails.
External conditions to consider, such as related markets or news events
Time of day you should/shouldn't trade
Your trade risk reward ratio, how much you risk per trade and size for each trade
Other than the ones listed above, there are so many other good reasons why you need to plan a head as a trader before you engage in any kind of trade.
For instance, you will be able to know when to trade and not to. Your expected return, how much you are willing to risk and how to deal with a failing trade.
You also know how to deal with your emotions and feelings in case you have to stomach a big draw down from your account.
Now that we know what a trading plan is,  let's see how you can be your own trader.
Procrastination to trade is when your trading set up confirms and you hesitate to take trade. Or your trade show all failing signals and you hesitate to close trade to cut losses. Also, in cases, where you sometimes hesitate to take profit because you want to...
Viewing 18 topics - 1 through 18 (of 18 total)
Viewing 18 topics - 1 through 18 (of 18 total)