Mt4 Trading Platform in Forex is a software used by most brokers & traders for online trading. Traders view real-time quote currency pairs in the market and execute trades.
Most brokers use it to provide training to their clients and make trades available to all traders.
MT stands for Meta Trader
The platform has 2 main versions Mt4 and Mt5 .
Mt4 is the most popular platform.
Also, the mt4 trading platform in forex offers opportunities to traders at all levels of experience.
It offers technical analysis indicators, algorithmic trading, Expert Advisors and mobile trading applications.
You can trade all kinds of currency pairs, CFD, metals, indices, stocks and commodities here at the platform.
Image below shows how usually MT4 platform looks when just logged in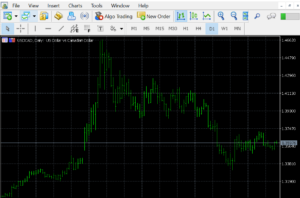 To use this platform,
You have to first install it on your computer, or your mobile devices such as mobile phones or pads.
It is for free and easy to download. All you need is to get connected to internet.
Why you should use MT4 trading platform in forex
The mt4 platform supports instant trade executions, pending trades, stop orders and trailing stop orders.
Not only does it provide analytical tools, indicators, ,

currency pairs

  and candlestick charts, it also provides patterns  to use to identify trends, entry and exit points while trading.
In addition, the mt4 trading platform in forex also provides traders with market news, expert advisors and scripts.
Charts on the platform are presented in a simple way that they are easy to identify and analyze.
With the platform, you are able to trade from your favorite browser just by clicking. All you need is an internet connection.
It is instant; You just have to install the app on your computer or mobile phone before you can use the platform.
How do you get the Meta trader MT4 platform
It is very easy. No one will ask you for payment to get one.
The MT4 platform is free of charge. All you need is internet.
In case you are using a windows or mac, download the platform software and then run it to install.
You can also access it on a mobile phone. All you have to do is download the app and run it on your phone.
However, If you are using Apple devices, get the iOS meta trader App from the Apple App store.
Now that you know what MT4 is and where to get it.
Let's go through a few steps on how to download and install it on your trading computer in the next lesson.
Other wise, I am proud to say congratulations, finally you will have your own practise trading account. Very Soon.
Procrastination to trade is when your trading set up confirms and you hesitate to take trade. Or your trade show all failing signals and you hesitate to close trade to cut losses. Also, in cases, where you sometimes hesitate to take profit because you want to...
Viewing 18 topics - 1 through 18 (of 18 total)
Viewing 18 topics - 1 through 18 (of 18 total)