Ranging Markets
Common way to Trade Ranging Markets in Forex is to Sell on Resistance and Buy on Support.
In Ranging markets, prices are  bouncing between certain levels and remain in that range for a certain time. Price is defined between support and resistance zones.
In ranging markets, price moves in the side ways direction.
Prices bounces up and down making pivots of overbought and oversold levels without showing a specific trend direction.
It neither moves upwards or downwards just stays in consolidation.
All in all,
Prices don't make new highs but tend to repeat its highs and fall to previous lows making peaks and valleys.
It is commonly referred to as range bound, choppy, sideways or flat market.
Let's see an Example of a Ranging Market on a chart.
Ranging market on USD/JPY, Daily time frame market chart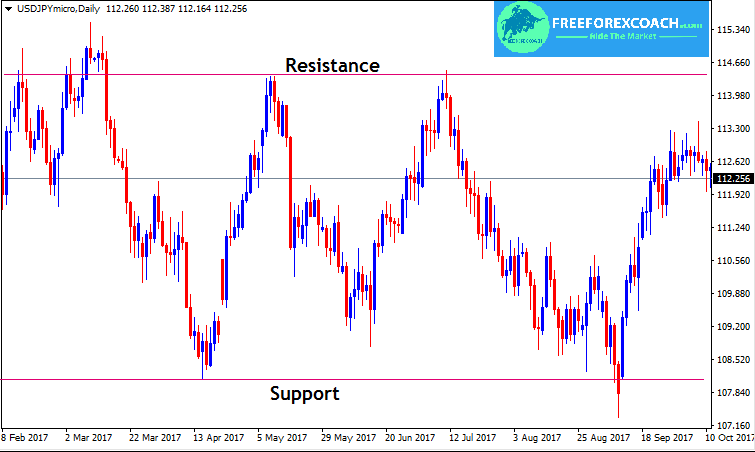 From our chart above, you can clearly see how prices bounce up and down ranging between the levels of support and resistance.
How to trade ranging markets
In ranging markets, we sell on resistance and buy on support.
Previously,
We learnt that at support level, the buying pressure is greater than the selling pressure. Also at resistance, the selling pressure is greater than the buying.
This implies that there are higher chances of price to reverse as it approaches these levels than break through.
However, price can never hold at these levels forever. It is possible that price can also break the support and resistance levels.
When it does, you may also sell or buy when price breaks through either the support or resistance level
For strong trade signals, it is very important to combine candlestick reversal patterns with support and resistance.
Let's see how you can identify signals & trade ranging markets in forex
Below is USD/JPY daily time frame.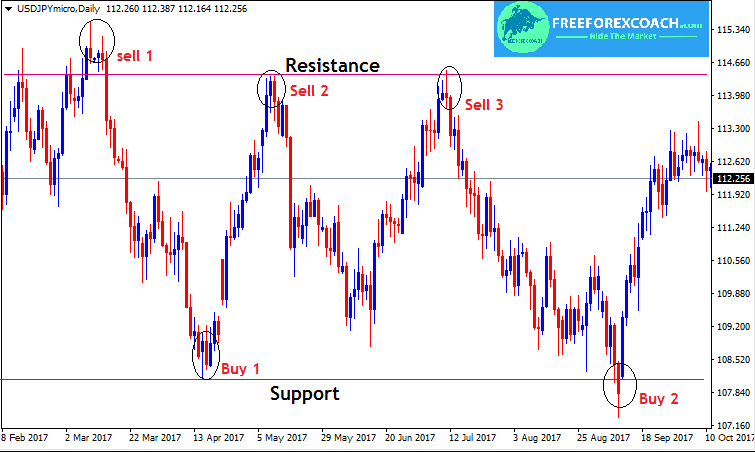 From above chart,
sell 1 signal has a shooting star on a resistance. On Sell 2 there is an engulfing pattern and Sell 3, you can see a doji.
Our trade entry signals were all confirmed by strong bearish reversal candlesticks which resulted into a strong rally down after.
Stop loss on these trades is just on previous high and target is the support zone level/ previous lows zone.
On the support level,
we had our first buy (buy 1) confirmation is a hammer candlestick pattern at support. Buy 2, confirmation is three inside up pattern.
Stop loss on these trades is just on previous lows and target is the resistance zone level/ previous highs zone.
Candlesticks with support and resistance
As a reminder, when trading support and resistance levels in ranging markets, it is always important to have a big eye for major significant candlestick patterns.
These give strong confirmations for reversals.
In the case above,
You can clearly notice that every time price bounced of the support and resistance level, there is an addition of a reversal candlestick pattern.
These are the clear strong trade signals in this case.
Next we are going to look at some indicators you can use to determine ranging markets!
Procrastination to trade is when your trading set up confirms and you hesitate to take trade. Or your trade show all failing signals and you hesitate to close trade to cut losses. Also, in cases, where you sometimes hesitate to take profit because you want to...
Viewing 18 topics - 1 through 18 (of 18 total)
Viewing 18 topics - 1 through 18 (of 18 total)